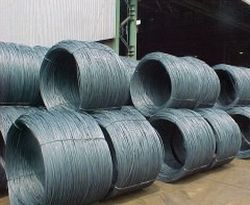 Demand for steel products in the first quarter of 2011 is predicted to rise 0.2 percent compared to the fourth quarter of 2010. These conditions triggered a rise in exports offset weak domestic demand. Nevertheless, the annual (year on year) steel product demand period January-March 2011 is predicted to fall 0.3 percent compared to same period previous year.
Based on the data from Japan's Ministry of Commerce, as quoted by Reuters, it is in the fourth quarter of 2010 steel demand in the Japanese market reached 24.22 million tons. While demand for crude steel for October to December 2010 reached 26.88 million tons. "Because the companies cut inventories, we estimate that crude steel production to fall 3.2% in January-March quarter," said Minister of Economy, Trade and Industry of Japan Masaki Koito yesterday.
Japan Steel Industry Association said last week, the growth of steel production in November fell 5.5 percent, or only 8.98 million tons after a rise to 9 million tons over the previous two months. Japan's Economy Ministry estimates, crude steel production until the end of fiscal year 2010 or March 2011 will reach 110.08 million tons, up 14 percent compared to 2009-2010. This is such a good news for Japan's economy. Everything can change in every second including the trade development and the stock index in this country.